Meet Our Providers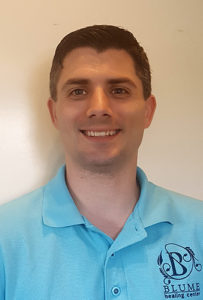 Dr. Joshua Blume, DC is the owner of Blume Healing Center. He has been serving Lewis County since 2007. His goal is to heal patients as much as possible on every visit. He believes that chiropractic care releases the buildup of chemical, physical and emotional stresses stored in our bodies that prevent us from realizing our highest potential. He uses specialized evaluation protocols to determine exactly what your body needs to heal and operate at peak performance. Dr. Blume's approach is to tailor the treatments to the individual by incorporating a variety of techniques to help restore optimal function to the body, thus restoring health and vitality. When he is not in the office he enjoys spending time with his wife and three kids. He also enjoys football, golf, skiing, and traveling.
---
Louise Brinson, LMP is a licensed massage therapist at Blume Healing Center. She has specialized training in Deep Tissue Massage, Infant Massage, Muscle Energy Technique, and Proprioceptive Neuromuscular Re-education. She enjoys helping people and prides herself in listening to the client. As she puts it, "If I go to a restaurant and order a steak, I will not be satisfied if they bring me soup." This attitude guides her as a provider, where she strives to always listen to the client and tailor their treatment to their personal needs. Louise really enjoys helping people. She likes to spend her free time with her husband, their dog, and their families. She also enjoys golfing and playing cribbage.
---
Brian Worden, LMP provides massage therapy at Blume Healing Center. He specializes in Deep Tissue Massage, Injury treatment, and Pregnancy Massage. "After going through ankle reconstruction, due to an on-the-job injury, I was able to learn firsthand just how amazing chiropractic and massage are together. I love being able to see people leaving in much less pain than when they arrived. I am always trying to learn techniques and treatments to help as many different people as possible." In his time away from the office, he enjoys spending time with his wife and kids going camping, rafting, hiking, or just watching movies. Brian also enjoys golfing, fly fishing, playing guitar, and coaching baseball.